Please support SAAWA Weed Harvester Operating Fund.

With an Association-owned harvester, we plan to make significant improvements in areas of weed infestation, but your support is needed to make the harvesting program a success.

Step 1. Note your Administrative Area. We will try to allocate more time to those areas contributing greater amounts to the operating Fund, so make sure to note your adminstrative area number (see description on left) in the comments of the donation form,

Step 2. Determine Your Donation Level. A miniumum donation of $50 is suggested, with larger donations appreciated. Larger amounts collected will allow us to expand our hours of operation.

Step 3. Make your donation. Don't forget to include your Administrative Area location number in the comments section of the check out form.

To make your secure online donation to the

Weed Harvester Operation Fund,

please click the Paypal link to the right.

Lakeshore Property Owners:

Minimum $50 donation suggested.

Larger donations are appreciated and

will allow us to expand operating hours.

Contributions also may be mailed to:

St. Albans Area Watershed Association

P.O. Box 1567

St. Albans, Vt. 05478

Shoreline property owners are encouraged to work with the weed harvester when it is in your area. As weeds are cut, excess weeds sometimes wash up on shore. If a property owner is there to help rake them into the Harvester intake, your area will be left cleaner and the harvesting proceeds very efficiently.

We intend to operate the weed harvester 5 days a week from July 15 through August 30 and on four Saturdays during that period to help shoreline property owners clean up weeds which may wash up on shore.

Questions or want to volunteer?

Please call Steve Cushing at 524-2897 after 6pm.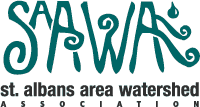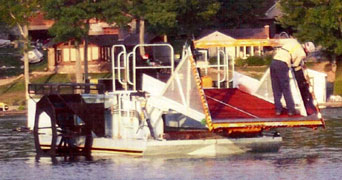 St. Albans Area Watershed Association | P.O. Box 1567, St. Albans VT 05478 | email:
[email protected]
St. Albans Area Watershed Association | P.O. Box 1567, St. Albans VT 05478 | email:
[email protected]
Administrative Areas

Area 1

Hathaway Point Harbor

north to the Walsh Camp

Area 2

Hathaway Point Road Fishing Access (Boat Landing) south

to the Bruley residence.

Area 3

Fuller Point to the

Groff residence.

Area 4

Groff Residence

north to the Black Bridge.

Area 5

Bingham Shore (south of Town Garage) to Georgia Town Line.

Area 6

Farrand Road (Town Line) south to Kissane residence.

Area 7

The Pines, including an area north of Lazy Lady Island.

The Agency of Natural Resources has identified

14 areas of weed infestation in St. Albans Bay.

For organizational purposes, seven "administrative

areas" are identified, which encompass these 14 areas.