Green lawns NOT green lakes!  

Don't 'P' on your lawn! 

"P" stands for phosphorus—the most problematic pollutant in Lake Champlain and in many other lakes in Vermont and northern New York. Phosphorus is a nutrient found in most lawn and garden fertilizers. When fertilizers run off from lawns and into lakes, they feed unsightly, smelly and potentially toxic algal blooms. 

Make a Switch! It's easy for home owners and businesses to switch to P-free (phosphorus-free) lawn fertilizers to reduce urban sources of phosphorus. Doing so may help reduce algal growth in your favorite lake—and you can still have a beautiful lawn!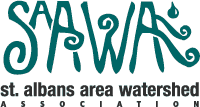 St. Albans Area Watershed Association | P.O. Box 1567, St. Albans VT 05478 | email: 
[email protected]
St. Albans Area Watershed Association | P.O. Box 1567, St. Albans VT 05478 | email:
[email protected]