Citizens' Monitoring Project

(this project took place in 2005 -- 

information is dated, but included for historical purposes)

The St. Albans Area Watershed Association has received funding from the state to complete a citizens' monitoring project of water quality and flow in the St. Albans Bay watershed. These projects are intended to address concerns regarding both flooding and water quality throughout the watershed. Researchers from the Gund Institute for Ecological Economics (GIEE) have helped to set up a monitoring program that will help to evaluate these problems and provide data to a landscape model currently being developed at GIEE.

Stormwater (Flow) Monitoring

Lake Friendly Lawn and Garden Practices

Together, the Gund Institute and the St. Albans Bay Watershed Association have selected 15 monitoring points throughout the watershed which will be monitored for base flow, storm flow, and water quality. The water quality and flow data collected by volunteers in St. Albans will be used to validate the model for this watershed.

Volunteers will collect stage height data at all 15 water monitoring points on a weekly basis. Peak stage height after reach storm will also be recorded using an attached crest gauge monitor.

Students from UVM, together with students from Jeff Rouleau's Stream Ecology class as BFA will calculate discharge curves using standard USGS methods at each point throughout the summer.

Water quality samples will be collected biweekly from June 9, 2004 - June 1, 2005 by citizen volunteers at the same points as the water flow monitoring. These samples will be analyzed for total phosphorus, total nitrogen, total suspended solids, and turbidity by the an EPA certified water quality laboratory using standard methods. Soil tests will be conducted for 300 homeowners in the City of St. Albans in summer 2004. This work is being completed by the St. Albans Area Watershed Association in conjunction with the Lake Champlain Basin Program and the UVM Extension Service. Soil test data and surveys of current fertilizer practices will be used to estimate phosphorus loads from fertilizers in developed areas. The resulting models will be presented at watershed meetings and available to be used as a decision-support framework.

citizen monitoring project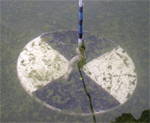 A Secchi disk, used to monitor water clarity.

St. Albans Area Watershed Association | P.O. Box 1567, St. Albans VT 05478 | email:
[email protected]