Thank you to all members who renewed their membership, made donations and contributed to the Harvester Fund.

SAAWA is not an organization of property owners. Our goal is to serve as a voice for all of us in this watershed (shore, city and town) to express the need for change, and to coordinate action for real, in-lake clean-up. We are tired of studies and participation in voluntary programs has not been successful. We have, and will continue to advocate for requirements to improve agricultural land use practices

and for greater investment in enforcement.

Volunteer for a committee or attend the next meeting of the Board Anyone with an interest in serving on the Board is invited to attend a Board meeting.

The St. Albans Area Watershed Association was created in 2002 with the primary goal of restoring the water quality of St. Albans Bay and the surrounding watershed.  We are a grassroots group of individuals -- young and old -- who love the lake and want to see crystal clear waters return to the Bay for the enjoyment and health of people and animals.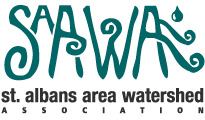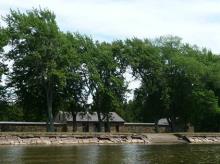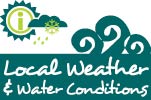 SAAWA wants to see real change happen in Saint Albans Bay.

Join your neighbors to take action. Support weed harvesting

and algae remediation in the Bay and better land use practices.

Our goal is to raise funds for a second large weed harvester operating on the Bay which will cost about $50,000. An anonymous donor started this project rolling with a challenge grant of $5,000 which SAAWA members were able to match.

This past season, we were able to purchase a smaller harvester for working close to shore, but there remains a need for a larger harvester and conveyor to make the harvesting process more efficient and effective.

We are continuing our  fundraising campaign to reach our final goal.

Please contribute if you can!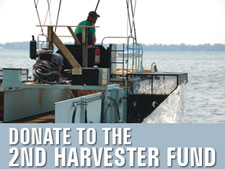 The  St. Albans Area Watershed Association is a non-profit corporation with tax exempt status under IRS section 501(c)(3) TIN 41-2196343.   All Donations are Tax Deductible.

SAAWA Board Meetings

are scheduled twice monthly

on Wednesdays at 5:30 pm

Next meeting:

Wednesday, March 22

Your participation is welcome!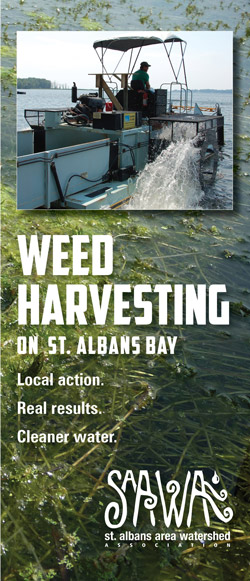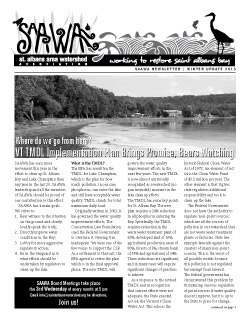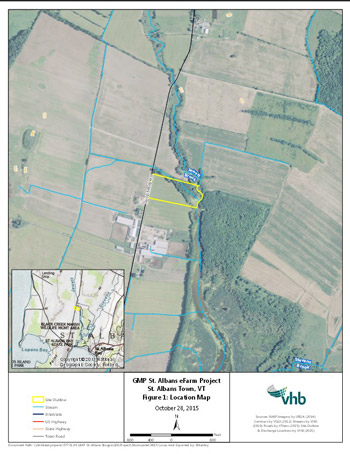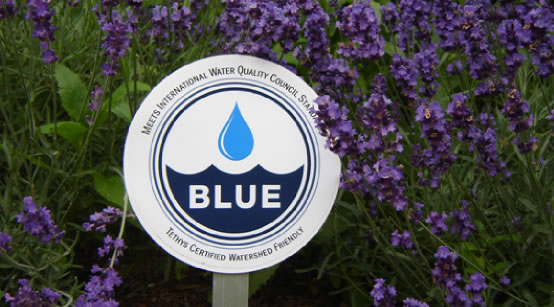 Becoming BLUE!

SAAWA
is working with Lake Champlain International (LCI) to try to expand their
Blue Certification program
to the St. Albans area. Becoming "Blue Certified" can help reduce stormwater runoff from your property. LCI has expert advice for techniques to make your home, product or business  watershed friendly. At this time, you can
email Juliana at LCI
for more information.